If there's one channel today that both mystifies and delights, it's TikTok! Somehow TikTok has become one of the largest, most engaging social media platforms, seemingly overnight. It has all the trappings of a few other platforms rolled into one. (Including dead ones like Vine. #RIP Vine, we hardly knew ye.)
The behavior that exists on TikTok is especially notable because of the sheer volume of content creators. Twitter, as an example, is famous for 10% of the users making 90% of the engagement (content and endorsements), but TikTok has a more even distribution – 83% of users have posted video. The ease with which you can create a quick, casual video certainly lends itself to more interaction. But even more than that – the algorithm for serving videos is so dependent on your actual interaction (especially hitting the like/heart on something you enjoy) that most users are at minimum endorsing content. Falling down a TikTok hole for several minutes a day is something that all ages seem to do – it is in no way gated by only the young.
That said, when we focus on audience groups considering some form of post-secondary education, TikTok videos have a heavy focus on first-year and past experiences. Videos follow similar themes to the student content we see created on YouTube, particularly "Day in the Life" videos. However, TikTok's how-to nature also lends itself favorably to becoming a repository of video for typical college experiences like unpacking the application process, something admissions officers would be wise to study for an insightful peek into what works well and what could be improved.
Let's look closer at the ubiquitous "Day in the Life" video: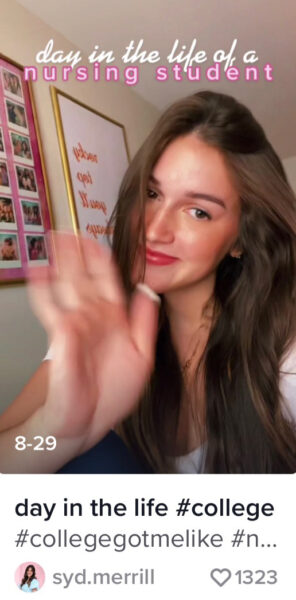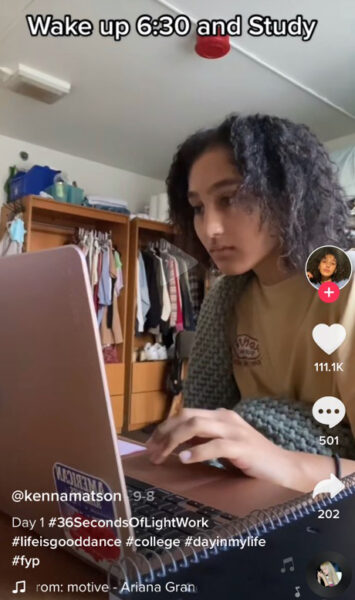 This video is engaging heavily with 111,000 likes alone (not views, LIKES; it probably had more than half a million views to get that level of engagement at the time). It also has 501 comments and over 200 shares. Consider how much effort you put into updating your official Twitter accounts in hopes you beat your usual record of 10 likes by people you actually want to reach. No shame in that effort, but it's time to be realistic about where engagement is occurring. This video doesn't even have a college named in it!
Meanwhile, the college application video is almost entirely student centric. The focus is not on where someone applies (although that can be part of it), rather it's a detailed look at the act of applying and helping those who aren't in the top 5% of their class feel better about the process, selection, and decision-making. There's a huge lesson there for colleges hoping to engage on TikTok: storytelling trumps brand telling.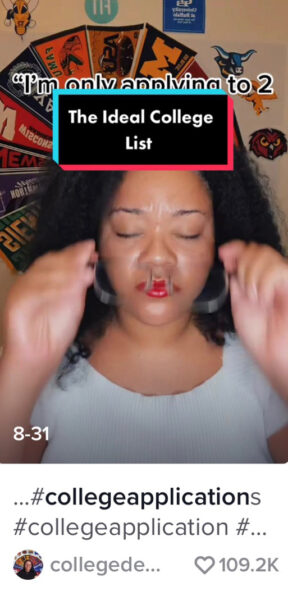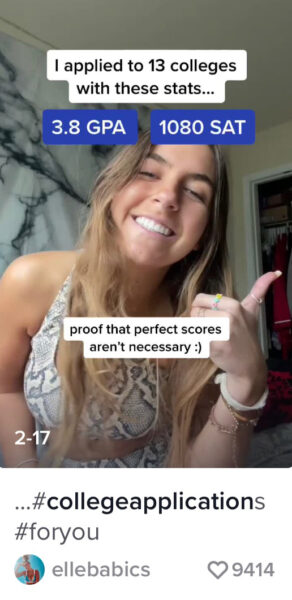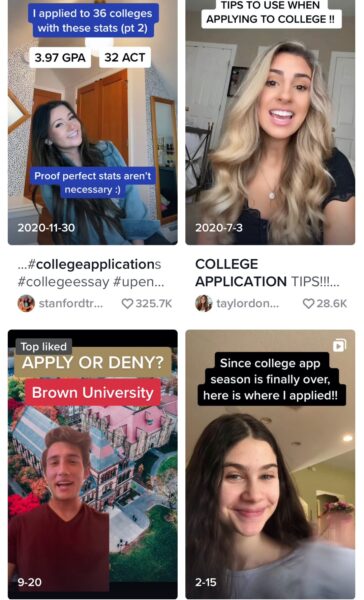 Branding (Or Lack Thereof)
An interesting element of many college-related TikTok videos is the lack of specific branding for a given institution. A majority of TikToks don't name the college or university at all. That's not to say it isn't easy to figure out, but absent is the map-driven geolocation of Instagram (or even Snapchat). The brand itself is not naturally present by default, so many content creators don't feel compelled to include it. Sometimes it's on their shirt, sometimes on a hashtag, but in most cases the appeal of the sentiment is its universality, not its specificity.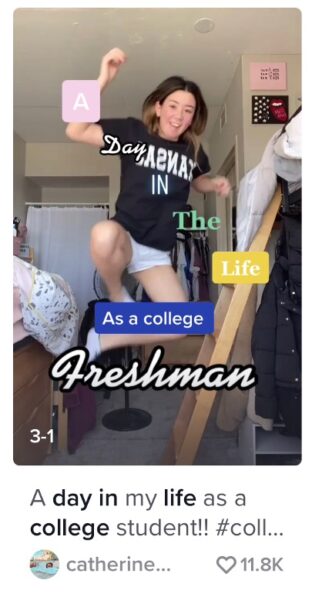 The reason for this is that naming an institution instantly makes an identifiable feeling or message narrower, but it also doesn't protect the creator if the criticism is sharp. If a college is named, the content must center around a publicly accepted stereotype, be relevant to and indicative of life at that college, or positively portray the brand.
Pro tip: have your social media hawk go to your bookstore and get familiar with what your merch looks like backwards.
LifeHacks: Higher Ed Edition
One style of TikTok video that captured our attention included the hashtag #lifehack, which treated community colleges as a personal goal trick on a giant scale (and was more impactful than the usual "how to steal mom and dad's Netflix password").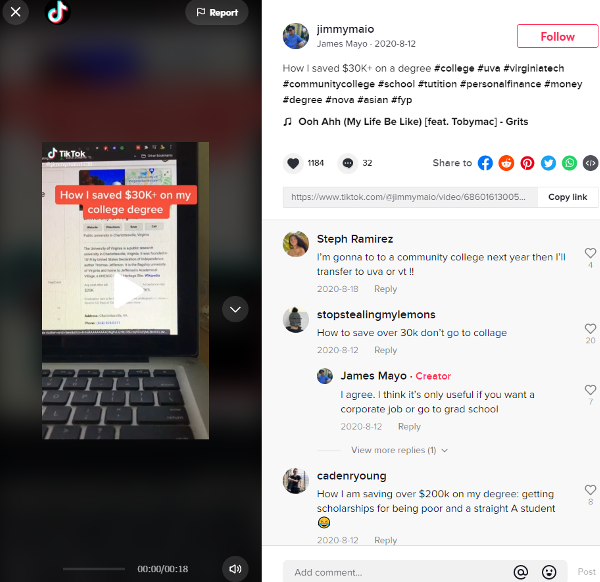 In fact, we saw a surprising amount of community college-specific videos and "CC pride" in a recent AccessU study. Students have a unique take on the "Day in the Life" videos that are on par with those posted outside of a college context – these videos include anecdotes related to work commutes, juggling a work-school balance, and in some cases the added elements of being parents, being a few years older than the traditional student, or simply acknowledging they are in a different place than many other students.
Don't Sleep on the Comments
Like YouTube's surprisingly candid chatter, TikTok has its fair share of discussion alongside many videos, and many TikTok commenters are empowered by the relative anonymity of the platform.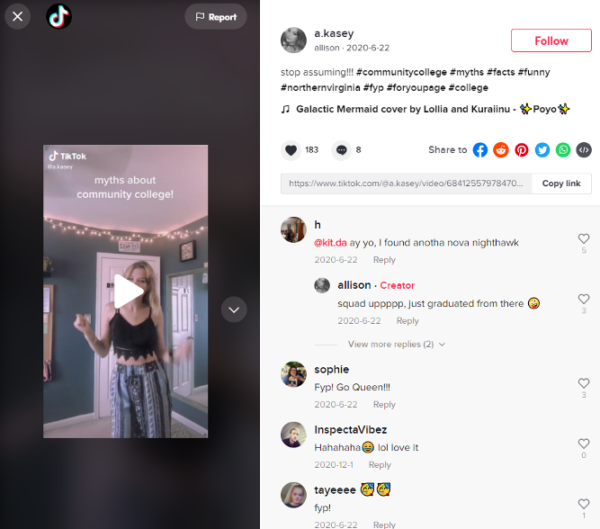 Generally speaking, comments tend to validate the creator rather than dig too deep, but occasionally some interesting back and forth can ensue. Many TikTokers create more content by engaging in discussions and responding directly to comments with another post. New videos are then created to further explain a situation or experience that was left unanswered in the original post. This has huge implications for understanding what content audiences want to see. Moreover, those comments are also content that is viewed by TikTok's massive lurker culture, so those validations are influential.
Don't Sleep on Your Staff – Um, They Might Be on TikTok Already
I'm assuming you know the people employed by any institution use social media. They're consumers of it, and many of them are active participants. They may not name themselves or the school they work for, but they're there.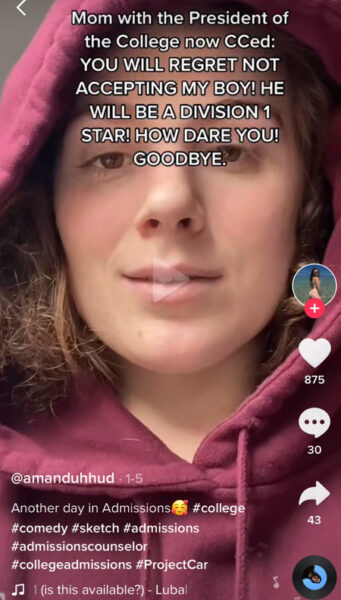 The sheer fact that #admissionscounselor is its own TikTok hashtag should give you pause, but it should also provide a window into how students view admissions counselors because they're seeing them in a very real, authentic, up-close and personal way. Welcome to the reckoning of hiring those you're trying to attract.
In other cases, TikToks are directed at admissions counselors: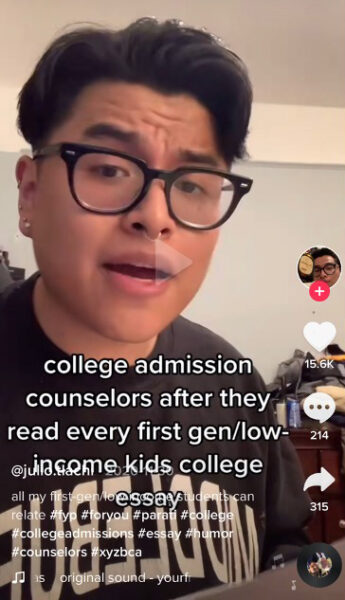 These are equally as important because they give direct insight into what students want to know about your school and its acceptance processes.
Now What Do You Do About It?
I know this will be shocking, but my immediate advice is to listen first. My advice is never to just run in and start engaging on a channel that is highly focused on the personal and casual. They may not want you there – and if you are there, it may be because you're the butt of the joke if you aren't careful. That doesn't mean you can't be clever, and it doesn't mean you can't have some sensational TikToks that garner wild amounts of attention… but if you're too focused on being a content creator, you may miss learning from the behavior happening around you. Suddenly, you're no better than the high school with the clever inclement weather delay announcements , and you're missing the fact that hundreds of thousands of prospective students are liking videos, pointing out a problem with the admissions process, or complaining about a very fixable residential or commuter issue.
On the execution side, the AccessU team and faculty encourage you to remember:
Students are looking for you: To that last point about audiences wanting you to be there, students do seem to want you on TikTok. We've found that while several schools have accounts without any content, some of them have followings in the hundreds and even thousands. Yes, without any content. Clearly, prospective students, current students, and alumni are looking to engage with you on some level. We've noticed that a lot of schools are starting to jump in, so now's the time to get involved. Develop a content strategy and get started!
Partner with creators: Sometimes the best way to engage with Gen Z is to have one of their own cohorts speak to them directly. Explore ways to partner with current and prospective students. Learn what your audience wants to know about and have your partners speak to those issues from their direct, candid experiences. And remember, creators benefit from creative guidelines so long as you don't become a helicopter parent – let them be themselves, the student attending your school at this exact moment in time. Oh, and collaborate with them! They know what others their age like, so have that back-and-forth dialogue on creative decisions.
Think like marketers and act like entertainers: The best ads on TikTok look like normal posts and work to enhance the entertainment experience. To run successful campaigns aimed at prospective students, you're going to need to adapt your paid content to look and sound like the one-on-one, authentic videos that already exist in that space. Roughly 79% of TikTok users say videos on TikTok are more unique than on any other platform, so your content must be consistent with their expectations. TikTok is not a channel that benefits from content brought over from other platforms; create a unique strategy and don't be afraid to engage those student creators along the way.
Comments = content: We touched on this earlier, but it's so important we're talking about it again. Pay attention to what users are saying in their comments, whether they're your own videos or someone else's. Comments directly tell you what people want to discuss and peppering in some reactive content leads to greater engagement. We can't tell you how many times we've seen creators post follow-up videos as a reply to comments in the original post. They do incredibly well.
Harness the power of subcultures: Yes, creating content that engages the largest portion of your target audience is important, but so is creating content specific to niche subsets of that audience. Subcultures really engage with content that speaks to them, particularly minorities and BIPOC (Black, Indigenous, People of Color) viewers. Given their increasing influence through starting trends and fostering connection, TikTok is even launching TikTok for Black Creatives and TikTok Latinx Creatives. It's imperative to include these voices in your content whether that be through partnerships or finding trends, hashtags, topics, etc. that resonate with their college experiences.
Tell your story with sound: Music moves people and sounds tell stories. Students today are oversaturated with digital ads, but TikTok cuts through the noise (pun intended) with full sound immersion, and up to 90% of TikTok users say sound is vital to the TikTok experience. Fifty percent also say music makes content more uplifting. As a result, you need to be using sound in your videos, particularly music. Sound helps deliver information, evokes emotion, and can be used to build distinct communities and connections as well as brand recognition and memory. Oh, and don't neglect narration. Narration allows users to follow happenings of the video, which is pretty important.
Ah, TikTok. Yes, look under the hood and it's just Vine 2.0. And yes, 10 years from now it will likely be something else. But waiting out change in social media means denying knowable behavior and risking opportunities hiding in plain sight. Be sure to engage those who will protect and enhance your position in channels like these by listening first and following with smart, strategic execution.