Instagram: we know it, we use it, and we know everyone else uses it. But do we truly understand how students use Instagram? If you've been reading our Social Media Centers of Excellence series, you may have seen us break down YouTube and TikTok, explaining their distinct advantages and how to use them successfully. Instagram owes a lot to the former, and the latter owes a lot to Instagram. In a way, Instagram features elements from all other platforms, with a focus on visuals.
It's important to acknowledge what Instagram is up front. I know no one thinks they need an Instagram 101, but you may not know that it's following a very similar trajectory to Facebook by adding features, which is not how channels typically evolve. For example, Snapchat (who still doesn't know what it wants to be when it grows up) keeps doubling down on aspects it seems like they've already conquered. Or they keep trying to imbed features they should give up on – such as making private snaps public or really hoping someone buys their Spectacles someday. Facebook famously began with a very one-trick functionality – profiles only. Status updates, photo albums, groups, and pages all came much later. Each addition now seems like it was always there, but there were years between major updates. Instagram stubbornly held off on some features for years, while others seemed to come onto the scene overnight with guns blazing (looking at you again, Snapchat). So, let's break down the main ways you communicate on Instagram:
The post: Hey, this is what Instagram was based on! A photo, a gallery, or a video. These are possibly incorporated with Reels.
Stories: Thoughts, experiences, sharing others' posts (even from other platforms, taken as screenshots), and more – all in a 24-hour window of visibility and often consumed in rapid-fire fashion. Also possibly incorporated with Reels.
Lives & Reels: Longer form video (in some ways that's all this is). These might be live or they might be completely edited and contrived (by comparison).
DMs: Direct messaging through the app, also integrated with Facebook messaging (because Facebook can't keep its grubby paws off the youth market and desperately wants to graduate them to Facebook when they get older).
Right. So, what's so interesting about the above? If you look at Instagram through a student-behavior lens, you may only look at one or two communication styles. I'd posit they actually break down into two behavioral personas:
The storyteller: Lives on Stories almost exclusively. Storytellers may have posts, but their profile likely has a simple over-designed theme or only 6-12 curated posts that are frequently deleted as often as they're published. For them, life is in the story. The Reel is story-centric too. In some ways, it's a very Snapchat kind of life in a blink-and-you'll-miss-me way. DMs are ways to receive and chat about what's happening in the story, primarily. For this kind of user, even their public profile has a fleeting, ephemeral quality of privacy. And if it's a private account, you really have to keep up to stay in the know. In some ways, it feels like subscribing to content.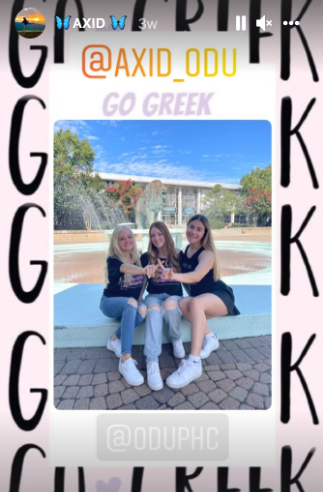 The poster: Uses Instagram for long-term content. These userscan come back to posts (as long as they decide to keep them up). Stories are simply a means to an end for interactions they can track. The bread and butter of this persona type are alumni and parents.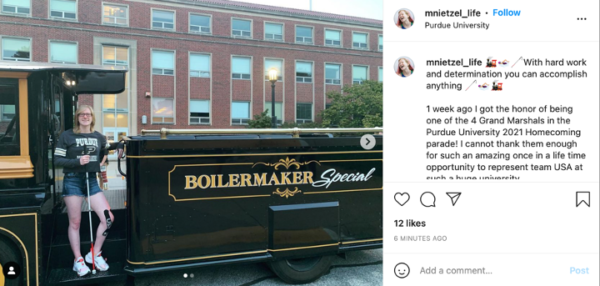 Are there more behavioral personas? Sure, there are – especially among older users who blur Instagram use and techniques. But ultimately, even those parental or staff users settle into one of the above habits.
Higher Education Content
So that's how they're using Instagram – but how are they using it in terms of higher education? If you've read other entries in our series, you might have an idea of where they land. But here are three notable behaviors with some unique Instagram twists for higher education content:
Life casting: Every day, nearly every meal is documented. College is a part of their lives, so their college experiences end up in their content in the same way their work, their cat, their favorite Starbucks drink, and more end up in it. Their daily college life is not necessarily a highlight reel, and not quite as intentional as what we might see on other platforms. They're not going to feature their activities like "day in the life" creators do, because they likely post something every day. Yet they still cover familiar ground, as they often use hashtags to hook onto common post types that we see on other channels such as #collegeacceptance.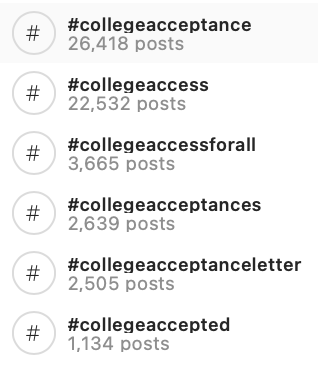 A true day in the life: In some ways, this is pruned life casting insofar as they're doing deliberate "day in the life" postings (Stories, Reels, etc.). This matches up almost directly with the same kinds of elements you see on YouTube or TikTok. Although, like YouTube, it's more a part of a larger life story – which you can return to or follow for the entire journey. Some elements might be standalone like TikTok, but you'll check often for more videos or posts or stories because you want to see how a journey ends or how they continue (If it's a college application, you want to see where they ended up going and how freshman year was. Compare that to TikTok, where you might never see two videos from the same person because of typical sporadic browsing.)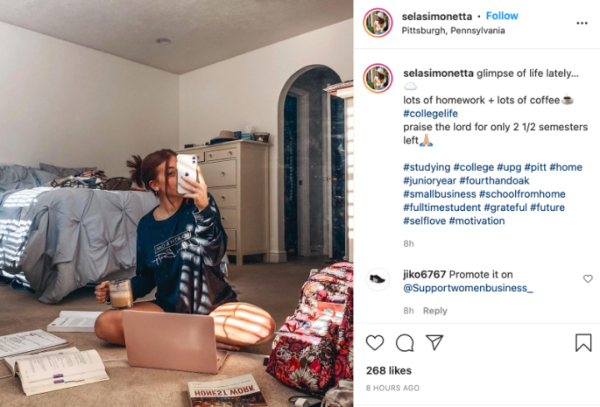 Rise of the private accounts: On the opposite side of the street from TikTok is the privacy of Instagram, where creators can do all of the above but with added control of who can see their journey and Stories. A private account gives them a far stricter gatekeeping quality and set of tools to use. However, it means that some of the most influential and thoughtful content providers speaking to prospective students are fundamentally private and have a process to let you in.
There's one more important stakeholder on Instagram: the parent. They're on Instagram, too! They are also part of the reason things went more private.
For example, here's the dad: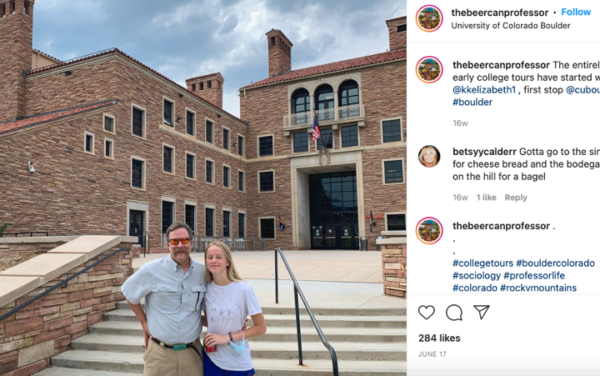 And here's the daughter: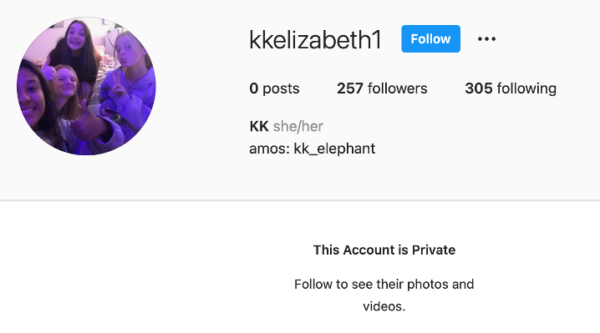 And the content itself? It wrestles with everything. The college frat party, the financial aid process, the campus tour, the word-of-mouth rumor mill, the athletic game, the snack bar… all of it. And prospective students who want to essentially shadow a college student for a day, a month, or a year can have a front row seat. Ironically, colleges and college prep vendors have begun to dominate some hashtags, making it easy for many students to stop using and ignore them and, in many cases, prompting others to go private.
Which brings us to the ultimate problem with feeling like you have Instagram figured out: students and prospective students have figured out that you think you've figured it out.
Now What Do You Do About It?
Surprise! Listen! Yes, just listen. Check out how hashtags are being used – even in jest. Use the geography-laden 'Discover' feature to see how students near campus are using the media and talking about you. And definitely check into social media from some of the high schools you recruit from.
Understand that prospective students don't necessarily want you to interact with them if they're serious about their life casting. That said, you might be able to tap them as minor influencers who can participate with other content. But know that just because they are game to play, it won't change how their followers see them – or you. In other words, they may be willing to compromise themselves to work with you, but if viewers smell an administration-approved shill, the influence plummets. They're there for authenticity – anything less is suspect.
On the execution side, here are our two cents from AccessU and the faculty:
Keep it visual: Remember, Instagram is a highly visual platform. Photos and video should be the priority here. Keep written content to a minimum (1-50 characters on posts and Stories) and share engaging images, videos, and other multimedia that speak to your brand aesthetic and style. Current and prospective students, alumni, and families want to see your campus and all that it has to offer, so use shots that highlight campus life and events. Oh, and be sure to follow guidelines on optimal content specs. For example, 1080×1080 pixels is the ideal size for images, and it ensures that your profile feed will look cohesive.
Don't forget the hashtags: Hashtags are how Instagram users find content. Do some research and, like we said before, listen! You can search high-performing hashtags using Instagram's search feature, and pay close attention to the hashtags prospective students, current students, and others are using. This will offer some insight into the content they're looking for and actively talking about. Studies show that fewer hashtags (between 1-10) tend to drive more interactions overall, though smaller profiles (less than 1,000 followers) may benefit from using more hashtags.
Repurpose content: For Instagram, you don't necessarily need to reinvent the wheel. Depending on what your audience is looking for (again, be sure to listen first), content from Facebook and YouTube can easily be adapted to Instagram, which may even promote brand recognition and awareness. And thanks to TikTok, Instagram Reels have become super popular (TikTok is the reason they exist in the first place). Many creators simply upload their TikToks to Reels, and they perform well. You may want to consider a strategy where you can do the same.
Form partnerships: Yep, we're saying it again. Just like on YouTube (and TikTok), Instagram influencers are a great way to build engagement and spread awareness among prospective students on topics such as admissions, campus life, tips for success in school, etc. Consider incentivizing established and budding influencers to develop authentic content around a topic that benefits your brand.
Don't neglect those Stories and highlights: Instagram Stories are a great way to get messages out quickly. Since they live at the top of Instagram's main feed, they're highly likely to be seen before a regular post. Use them to keep students up-to-date on campus events, promotions, and general school news. If you're consistent with them (you need to be to keep engagement up), chances are good that students will be on the lookout for new Stories from you. And if you're sharing particularly important information that you want audiences to easily find, be sure to create highlights on your profile where Stories of the same theme or message can live permanently. This is a great way to show important and highly relevant content that students want to learn more about.
And so, we close this blog on Instagram knowing how it is actually working for prospective students. How students use Instagram is likely to continue changing and will take active thinking and listening on your part. You just have to make sure you're at the table.