YouTube – practically a commodity in the online world as a video buffet – is a channel many institutions feel comfortable with because they've figured out how to deploy content. It's a channel you might even have felt good about years ago. But the differences between how we deploy it for marketing and how students use the channel showcase many lessons still to be learned. You might be surprised at the content and conversations going on. Our research reveals YouTube has been showing up in some very interesting ways.
First, let's be clear that everything you know about YouTube is still useful and that all the best practices you've learned about posting content still stand. (A quick review: tag everything, add locations, turn off comments for any announcements, organize playlists, share wildly.) But let's also recognize that most of the ways we've used YouTube are as a repository for video content – practically an open Google Drive we send people to via ads or hope they stumble upon. Meanwhile, listening and watching for how students are utilizing YouTube as creators could be crucial for understanding prospective and current student behavior and choice.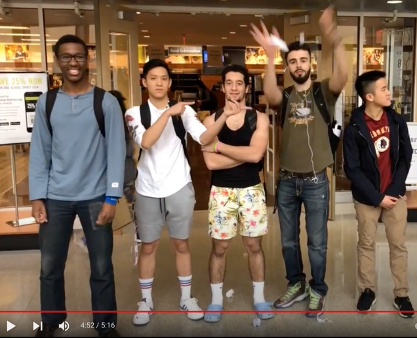 What We're Seeing
Videos are posted by a remarkable cross-section of demographics that likely defies expectations. The content and conversations vary, but the general trends put them into four camps:
Applying and Accepting
The Vlog
"A Day in the Life"
The Q&A
Let's break down each type in more detail: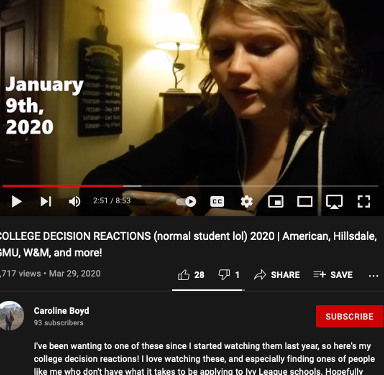 Applying and Accepting
The bulk of this content focuses on the final decision of acceptance. Students not only announce where they've decided to go, but explain exactly why they chose it, the things that appealed to them, and what they're excited for. These videos aren't always glowing, but they're usually very genuine. They sometimes divulge things they weren't so thrilled about, close calls in decision-making, financial aid, and other factors. For highly narrative creators, we might see a string of precursor videos explaining their logic and process before acceptance – it's usually a rabbit hole worth exploring.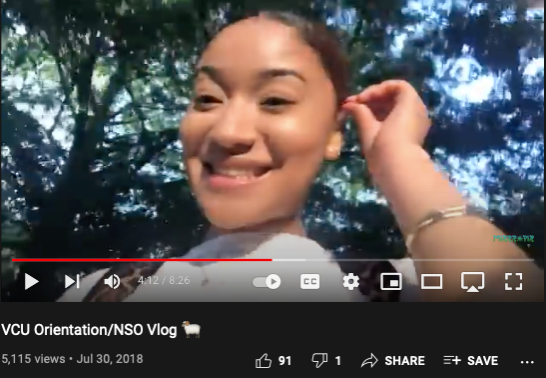 The Vlog
Instagram has born an entire generation of would-be influencers frequently seeking some level of incentive or payout – but YouTube creators are far more varied in their motivations. Some are simply there for a little attention and a lot of conversation, sometimes carried out in the comments of the videos themselves (more on this below). The video blog is alive and well among higher ed audiences and might be acting as a sounding board – with more influence than even your admissions counselors. Vlog topics can range from weekly updates to segmenting content based on subject matter and life issues important to them (be aware, they don't skip politics).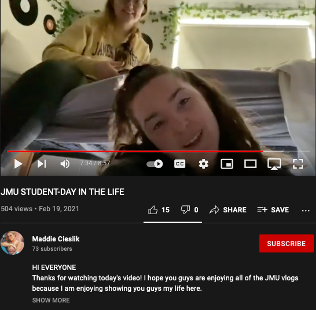 "A Day in the Life"
"A Day in the Life" is often one major sub-type of someone's vlog, but the sheer volume of students who only make "Day in the Life" type content warrants its own category. These can be very interesting insofar as they are incredibly narrow to the experiences of that particular student. Some are polished videos and very self-aware, while others are far less plotted, presenting a highly transparent look into the average life of a student (usually in the first or second year at an institution). Note that the entire purpose of the video is not to show a day in the life of X institution's students but rather to show a singular person's day. They are the lens here, not your campus or programming or academics. This can be frustrating when a video is incredibly erudite and powerful but manages to track six minutes with no mention of your brand.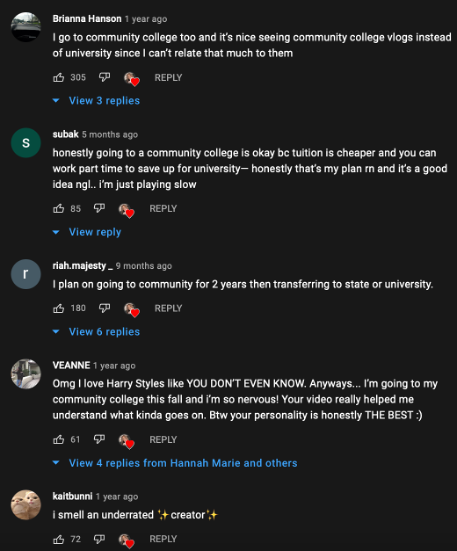 The Q&A
This is where it gets interesting. I used to think that comments on YouTube videos were the worst on the internet – and I maintain that's still true in general – but there are little oases of conversation on YouTube among Gen Z audiences that are making me rethink that opinion. Comments at times riff on small elements in the video itself – from a cute dog to the band poster behind them – but can also take a turn and quickly move into deeper territory about anxiety, financial aid, racism, parent pressure, academic worries, and more. These conversations have their own momentum, generating small, temporary communities of dialogue that include the video's author (auteur?) contributing to the discussion while also playing moderator. These conversations can be added to for years after the initial post.
There are other types of videos, of course. Some are parody interviews with campus denizens, some are rant videos about a particular department, some are simply campus interactions recorded and commented on. Video types can vary greatly based on type of school, geography, and program type. It's also worth noting that we are seeing alumni content increase from creators who had "current" vlogs that have continued after graduation, or who returned to comment from an alumnus or post-college perspective.
How Are Prospective and Current Students Finding Content?
So how does a prospective student wade into this vast world of content? It will come as no surprise that some content is shared by word of mouth – but the majority is experienced because these interested audiences are doing their homework in the search phase. A high school senior summed up their search in this way:
"I usually look up: 'college acceptance letters' or just even the college/uni I'm looking at. So, I would look up 'UMW' or 'University of Mary Washington.' Then: 'college vlog,' 'campus vlog,' or 'day in my life college'."
It bears repeating: If you do not have a strategy for monitoring and monetizing search across platforms, you are likely missing a major opportunity to engage.
Now What Do You Do About It?
First, listen carefully to see how these trends might apply or be different for your own institution. Your target populations are sure to have some significant variations. Beyond listening, this knowledge should change some approaches to brand marketing and your institution's YouTube channel itself. Here's what the AccessU team and the faculty think:
Switch up your messaging: Are you really talking about the issues that students care about, or are you stuck in the world of academic speak? There is a careful balance to strike when sharing content as an institution, and we increasingly stress the importance of refining all forms of content to be at the student level. That means paying attention to conversations and connecting your content to existing dialogues. Are students in your market focused on campus life? Is there a particular club or program that's getting a lot of attention? Highlight it and help spread the word with a supplementary content strategy focused on the hot topic of the day.
Be timely: Remember, Gen Z is always plugged in. Trends change quickly, so it's important to stay on top of conversations as they're happening. Don't wait too long to jump in because you could miss the discussion altogether. Or worse, someone else could take control of the narrative while you're trailing behind trying to change the story.
Engage with content creators to develop partnerships: This is not an "us vs. them" game. Choose to work together and both student and school will benefit. Perhaps there is an opportunity to collaborate with a creator to "report" on key topics and switch up the perspective. Ask permission to share student content on your official channels and extend their reach. This applies equally to prospective students, current students, and alumni. Each category of student – past, present, and future – can have a profound impact and deliver different messages and perspectives. Their content depends on who they're targeting and what conversations they want to have about your institution. And, as a bonus, you can consider incentivizing established and budding creators to develop authentic content around an issue or program in a way that benefits your brand.
Nurture your own communities and discussion forums: How's the conversation on your own videos? If we had to guess, probably lacking compared to student channels. Do you have a voice and are you responding to comments when they appear? Often, we see institutions and other organizations neglect this critical piece of the YouTube strategy – once the video gets posted, the work is done, right? But how much are you doing to draw people in and engage with them directly through the channel? Designate someone to build your YouTube community and start conversations when the opportunity arises. You can even consider asking students to take on the role from time to time (and thank us later).
Optimize your videos: There is a lot of logistical work that goes into successfully hosting a video on YouTube and making sure it reaches the right groups. The biggest issues we see when videos lack views and engagement include ncomplete profiles, weak titles, and descriptions that lack the keywords needed to engage an audience. These are simple issues to fix and pay off major dividends. Beyond that, paying attention to lesser-known tricks like creating unique thumbnails and adding captions can really elevate your YouTube game.
Connect to your other channels: This should be a no-brainer for marketers, but it bears mentioning. Are you linking your other social media channels to YouTube? What about your website? Connecting your viewers to other platforms, particularly places like Instagram and TikTok where video rules all (especially with the ever difficult-to-engage Gen Zers), facilitates stronger community building and brand recognition.
Hopefully this look into YouTube was more intriguing than terrifying. Ultimately, I hope it makes you sit up and realize that the comfortable position many colleges and universities have settled into with YouTube may have resulted in missing a crucial and influential trend. Research is the best place to start. Let students' own behavior tell you what they're up to!